Our Story
All about us.............
It's always nice to know a little about who you are dealing with, so here's a little about us
We're Anita and Andy, and we live in the lovely village of Churchtown in North Cork, Ireland
We've been married 20 years and in 2010 after many years of waiting were blessed with twin boys who are the loves of our lives, and are the reason for starting our business! (They also drive us a little bit mad and keep us on our toes!). And to throw a little more interest into our lives one of our little men was diagnosed with Autism in December 2013.
When we had the boys we received many lovely gifts from friends and family, and it got us thinking that maybe we could offer the same service to other happy new parents - the business has grown from small beginnings in 2011 to a thriving enterprise now. We have built on our original ideas and now cater for hen parties too!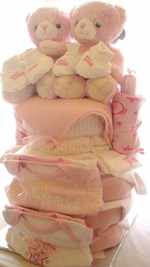 We hope you enjoy browsing our site and that we can provide what you are looking for. If there is anything we don't stock and you think may be a good addition to the site, please let us know using the contact us form.
You can be assured of our personal attention at all times, and hopefully you will tell all your friends about us.
And before you go, don't forget to take a peek at the twins blog - written by Mummy for now (when she gets a minute)!!
Anita and Andy
PS Why not sign up to our mailing list at the bottom of the page to keep updated on new additions to the site and receive details of special offers and discount codes